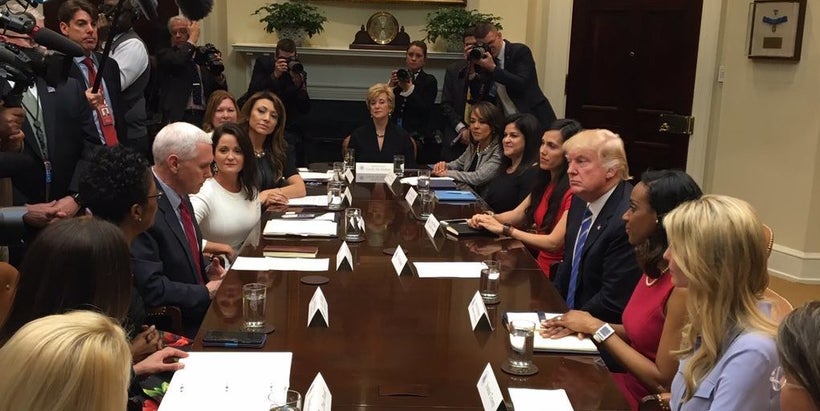 Twelve days after the U.S. Hispanic Chamber of Commerce facilitated a roundtable discussion with Latina business owners, a meeting with President Trump, Vice President Pence and Linda McMahon, Head of the Small Business Administration, quickly was arranged to continue to elevate the issues and seek further engagement to advance the priorities of women and minority owned businesses.
Joining a total group of eleven women small business owners, we- four Latina business owners- embraced the responsibility to speak up on behalf of the issues and barriers faced by the fastest growing business segment in the country; Hispanic-owned businesses.
The four Latinas at the table with the President included Patricia Funegra, a social entrepreneur and activist, founder and CEO of La Cocina VA, Dyan Medina Gibbens, former Air Force Captain now founder and CEO of the drone company Trumbull Unmanned, Claudia Mizra, an immigrant from Colombia founder and CEO of Akorbi a global provider of multilingual services and staffing and I, Lili Gil Valletta, CEO and co-founder of CIEN+ and CulturIntel.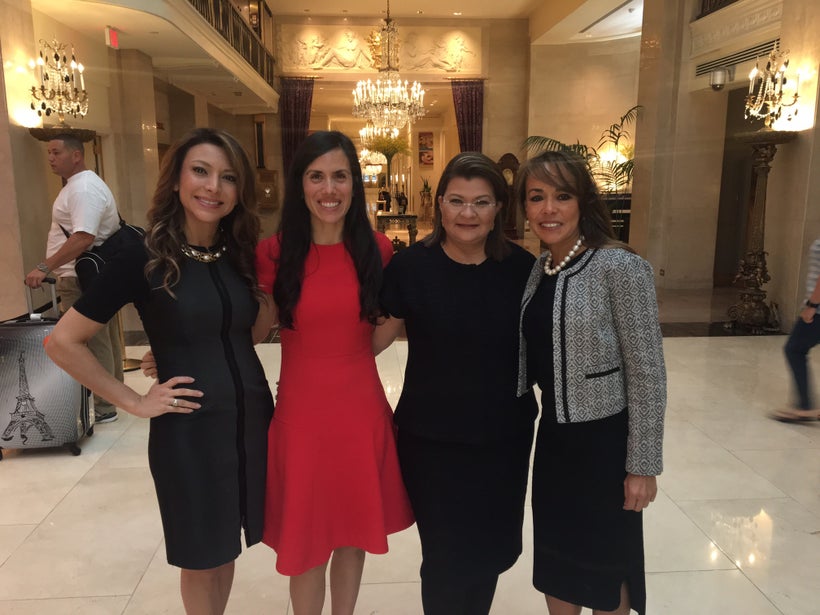 Some of the key issues discussed included mentoring, better awareness of SBA programs to ensure equity in access to capital and opportunities like government contracting, training and STEM programs for children K-12 and removing barriers for lending that disproportionately affect women and minorities.
As private citizens and Latina business owners without party affiliation, we proudly shared our journeys as immigrants and underscored the importance of recognizing America's shifting demographics and closing inequality gaps.
I particularly brought up the need to engage Hispanics as programs are designed and the need for relevant community outreach and role models among minority children and their parents to foster a culture of education, STEM and innovation. These inclusive strategies can make generational impact by leaving a legacy of systemic changes and programs that empower the diverse segments that are set to drive incremental growth, but have yet to achieve their full potential.
While many organizations have recognized diversity in talent and leadership as a key business priority, many still lag behind when it comes to diversity as a priority for vendor or partner contracting. This is what is called supplier diversity, a term often misunderstood as an effort to fulfill quotas instead of a key strategy to drive innovation, sustainability and economic growth.
The shifting demographics in America are an eminent reality. In fact, the U.S. Census estimates that by the year 2044 we will be a majority-minority nation; however this milestone has already arrived across public schools in America today. In fact, according to the US Census, minorities drive 100 percent of population growth.
But how are these trends linked into the economy of our businesses and nation? Simply said, it's about growth. Common business sense tells us that investment and priority ought to be allocated to the trends and factors driving growth.
According to the SBA, small businesses have created 66% of net new jobs since the 1970s; a key economic indicator tied directly to the overall health of the economy. In addition, minorities are fueling small business growth and outpacing other segments in firm creation. For example, over the last decade, Hispanic-owned companies have grown at a rate 15 times higher than that of all other firms, according to the U.S. Hispanic Chamber of Commerce; with Latinas outpacing their male counterparts within the segment. African-Americans and Asians also report higher growth rates in new firm creation at 34% and 24% respectively, versus -6% for non-minority firms, according to the Minority Business Development Agency (MBDA). ­­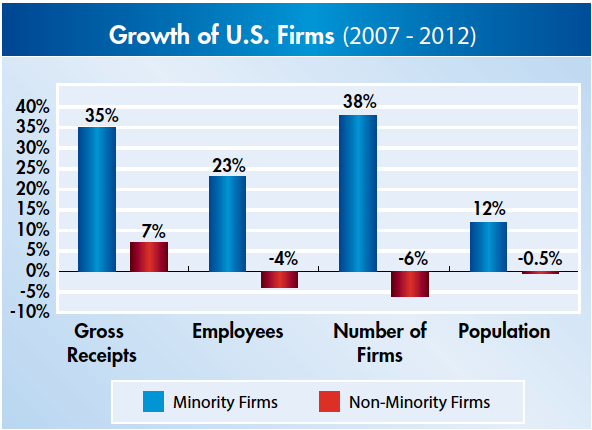 Among women, Latina owned businesses lead the way driving new business growth according to The 2016 State of Women-Owned Businesses Report commissioned by American Express OPEN. Between 2007 and 2016 the number of Latina owned firms increased by 137% versus 45% for overall women-owned firms.
Unfortunately, while minority owned businesses are driving new small business growth and creating new jobs that play a critical role for American prosperity, a closer look at the revenues performance and access to capital of these businesses highlight concerning inequality gaps that have a direct impact in America's ability to achieve its full growth potential.
While minority owned businesses drive all the growth, they report disproportionately less average gross receipts at $173,552 versus $552,079 for non-minority firms, according to the MBDA. That is .31 cents to the dollar in revenues, which translates into a $3.1 trillion gap that should be coming into the economy. Overall minority-owned businesses today contribute $1.4 trillion in combined gross receipts. For Hispanic-owned businesses the disparity is greater at .25 cents to the dollar, this according to the U.S. Minority-Owned Fact Sheet published by the MBDA January of 2016. Only earning a third of their full revenue potential also means their ability to generate new jobs is not being exercised at their full potential. Overall, minority firms today represent approximately 28 percent of all firms in the U.S., however they only contribute 0.04 percent in combined gross receipts of all U.S. firms contributing $1.4 trillion out of $33.5 trillion, according to numbers reported by the MBDA.
This issue trickles down to women, particularly Latinas, who lag behind achieving their full economic potential earning 36 cents to the dollar in revenues versus their female counterparts. Overall women-owned businesses report average revenues of $143,431 while Latinas report $52,087. If Latina owned businesses were to reach parity in revenues with their female counterparts this will bring into the economy an additional 172 billion in revenues. Today's $97 billion would become $269 billion.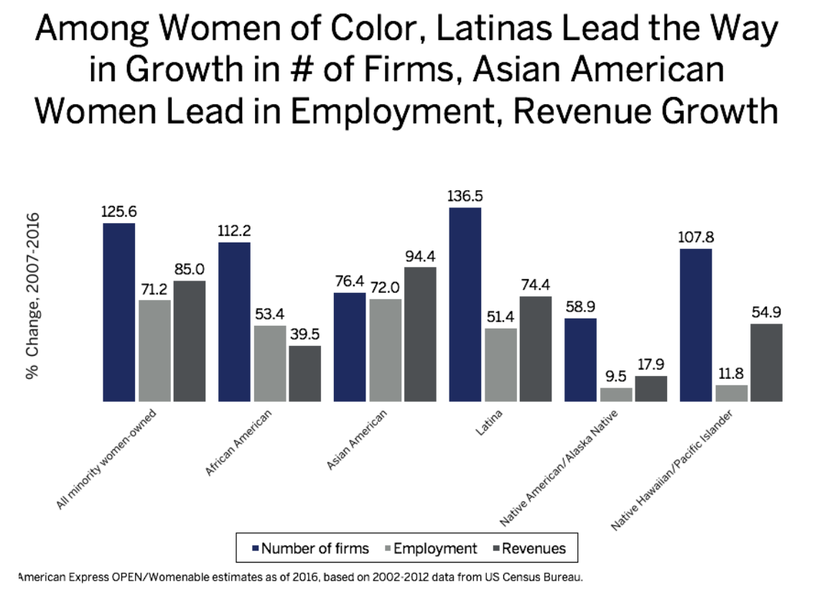 The Small Business Administration plays an important role in helping fill these gaps. Programs like Scale Up and Score were mentioned as successful models. However, new strategies must be explored to provide for more flexibility in startup funding, minority business inclusion and bringing flexibility to lending mechanisms.
"When the segments that are driving the growth in new small business creation- who are also the ones driving new job creation- are not achieving their full revenue potential, the American economy is not – and will not- prosper at its full potential either. " Lili Gil Valletta
This is not a minority issue, but an American issue. This is why organizations like the U.S. Hispanic Chamber of Commerce under the leadership of President and CEO Javier Palomarez, have taken a stand to advocate for minority and Hispanic owned businesses. Palomarez has made it clear that his role is one to elevate the priority and economic power we, Latino business owners, represent to the economic well being of this country.
Despite his harsh criticism of Trump during the campaign, he is now open to work with the president on issues they agree on. Palomarez told the New York Times recently "I'd much rather campaign from the inside than complain from the outside."
As a member of the U.S. Hispanic Chamber of Commerce I am proud to support this call to action. Despite the emotional charge that may be associated with approaching the Trump administration, I am willing to speak out and speak up. In a way, presenting the Hispanic and multicultural business case with hard facts to the board rooms of Fortune 100 companies for the last 20 years of my career have prepared me now to elevate the same priority on a much larger stage at the White House.
In summary, designing inclusive policies and procurement practices is not an altruistic mission but a critical requirement for our economy to grow and for all Americans to prosper. However for that to take place, the segments driving the growth in population and businesses must be properly included, heard and prioritized when decisions are being made. We must find more inclusive and positive ways to work together, especially after a divisive and emotionally charged campaign year; and this meeting represents an important step forward for all.